Over 150 species of antlions (in 32+ genera) live in the Western Palearctic Region, which comprises Europe and the Mediterranean region (including northern Africa, Turkey and Syria).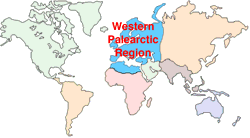 Notable species

Myrmeleon formicarius
Common European species.

Euroleon nostras
Common European species, however, E. notras is endangered in Germany.

Naya stigmata (Navas)
Found only in Libya.

Noaleon limbatellus Navas
Found only in northern Africa.

Representative genera

Centroclisis sp.
The largest genus of Acanthaclisini antlions with 39 species distributed throughout the Old World, except Australia.

Deutoleon sp.
Found in Europe and the deserts of the southern parts of the Palearctic Regions.

Formicaleo sp.
Seven species found in the Palearctic Region.

Gymnocnemia sp.
Two species found in southern and eastern Europe, the Mediterranean region and northern Africa.

Megistopus sp.
Four species in northern Africa, the Sinai Peninsula and southern Europe.

Myrmecaelurus sp.
77 species distributed across tropical Africa north to Europe and east across the deserts of southern Asia.

Myrmeleon sp.
The largest genus of antlions with 158 described species. Cosmopolitan in distribution, although poorly represented in southern South America.

Neuroleon sp.
The second largest genus in Nemoleontini with 112 species, distributed from Africa, Europe, and the Middle East to India.

Palpares sp.
Found in Africa and the Mediterranean region.

Phanoclisis sp.
Found only in northern Africa.
---