Over 280 species of antlions (in 47+ genera) live in the Afrotropical Region, which includes sub-Saharan Africa and Madagascar.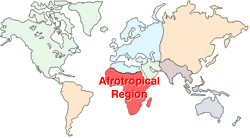 Notable species

Palparellus voeltzkowi (Kolbe)
Found in Madagascar, this is the largest species of antlion, with a wingspan that exceeds 160 mm.

Palpares immensus McLachlan
Another "giant" antlion; found in South Africa.

Representative genera

Banyutus sp.
16 species found in tropical Africa.

Creoleon sp.
71 species found in Africa, Europe, the Middle East, India and Sri Lanka.

Cueta sp.
81 species ranging from Africa and Madagascar to the deserts of the Palearctic Region.

Cynothales sp.
17 species found in tropical Africa.

Distoleon sp.
The largest genus of Nemoleontini, with 124 species distributed in all tropical and subtropical parts of the Old World.

Macronemurus sp.
32 species distributed mostly in Africa; a few are found in the Middle East as far east as India; two in Europe.

Myrmecaelurus sp.
77 species distributed across tropical Africa north to Europe and east across the deserts of southern Asia.

Myrmeleon sp.
The largest genus of antlions with 158 described species. Cosmopolitan in distribution, although poorly represented in southern South America.

Nemoleon sp.
20 species, mostly in Africa, with one reaching Spain and another in Afghanistan.

Paparellus sp.
The second largest genus of palparine antlions.

Palpares sp.
Includes many species from Africa and the Mediterranean region.
---