Over 200 species of antlions (in 55+ genera) live in the Australasian Region, which includes Australia, New Zealand, Tasmania, Fiji, Hawai'i, Samoa, Solomon Islands, New Caledonia, Papua New Guinea and eastern Indonesia. Most are found in Australia.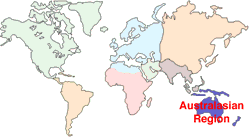 Notable species

Eidoleon perjurus (Molokai antlion)
Found only in Hawai'i.

Glenoleon banksi New
Found only in Australia.

Myrmeleon pictifrons
Found in Australia.

Nomes lorianus Navas
Found only in New Guinea.

Weelius acutus Walker
The only antlion found in New Zealand.

Representative genera

Found only in Australia:

Acanthoplectron sp. (two species).

Austogymnocnemia sp. (18 species).

Bandidus sp. (The largest genus of Nemoleontini antlions found in Australia with 36 species).

Distoplectron sp. (three species).

Escura sp. (nine species).

Froggattisca sp. (seven species).

Glenoleon sp. (The largest genus of Dendroleontini, with 32 species).

Protoplectron sp. (eight species).

Stenoleon sp. (six species).

Other genera:

Acratoleon sp.
Two species found in Borneo and the Solomon Islands.

Dendroleon sp.
14 species worldwide: two in North America; four in Australia; one in Europe; one in Madagascar; two in Japan; four in the Oriental Region.

Eophanes sp.
Three species found in Australia, the Philippines and Kisser Island.

Heoclisis sp.
11 species, principally in Australia, but with three species from China, Taiwan and Malaysia.

Myrmeleon sp.
The largest genus of antlions with 158 described species. Cosmopolitan in distribution, although poorly represented in southern South America.

Periclystus sp.
Four species: three in Australia, one in Papua New Guinea.
---