Over 130 species of antlions (in 28+ genera) live in the Neotropical Region, which includes Central and South America and the Caribbean.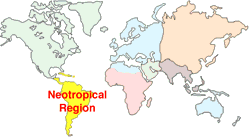 Notable species

Vella fallax fallax (Rambur)
Distributed from Mexico to Brazil.

Galapagoleon darwini (Stange)
Found only on the Galapagos Islands.

Representative genera

Abatoleon sp.
The most widespread of New World Myrmecaelurini, with 8 species distributed from southern Texas to Argentina.

Ameromyia sp.
Found in South America east of the Andes.

Dimarella sp.
Found throughout Central and South America.

Eremoleon sp.
18 species from the desert southwest USA through the American tropics.

Glenurus sp.
Eight species distributed throughout the New World.

Myrmeleon sp.
The largest genus of antlions with 158 described species. Cosmopolitan in distribution, although poorly represented in southern South America.

Psammoleon sp.
21 species throughout the desert southwest USA south throughout tropical America.

Vella sp.
Seven species found in southwestern USA; Mexico; and Central and South America.
---