Over 170 species of antlions (in 42+ genera) live in the Oriental Region, which includes Afghanistan, Pakistan, India, Nepal, Burma, Thailand, Vietnam, Taiwan, the Philippines, Malaysia and western Indonesia.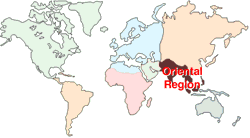 Notable species

Afghanoleon flavomaculutus (Holzel)
Found only in Afghanistan.

Cuca impressa Navas
Found only in Vietnam.

Delgadus sanchezi Navas
Found only in the Philippines.

Indoclystus singularis Westwood
Found only in northern India.

Madrasta handlirschi (Navas)
Found only in the Philippines.

Negrokus lebasi Navas
Found in India and Thailand.

Neleinus turbatus Navas
Found only in Burma.

Phanoleon bicostatus Banks
Found in northern Malaysia.

Stiphroneuria inclusus Walker
Found in India, Burma, Thailand and Vietnam.

Thaumatoleon splendidas Esben-Petersen
Found only in Taiwan.

Representative genera

Baliga sp.
14 species distributed in the Oriental region and Indo-Malaysia, with one species found in Australia.

Bullanga sp.
Three species in western China and northern Vietnam.

Centroclisis sp.
The largest genus of Acanthaclisini antlions with 39 species distributed throughout the Old World, except Australia.

Creoleon sp.
71 species in Africa, Europe, the Middle East, India and Sri Lanka.

Dendroleon sp.
14 species worldwide: two in North America; four in Australia; one in Europe; one in Madagascar; two in Japan; four in the Oriental Region.

Distoleon sp.
The largest genus of Nemoleontini, with 124 species distributed in all tropical and subtropical parts of the Old World.

Gatzara sp.
Two species found in India.

Indoleon sp.
Six species found in Pakistan, China and Java.

Layahima sp.
Four species in northern India, Vietnam, China and Taiwan.

Myrmeleon sp.
The largest genus of antlions with 158 described species. Cosmopolitan in distribution, although poorly represented in southern South America.

Nepsalus sp.
Two species found in India and Malaysia.

Nuglerus sp.
Four species found in the Philippines, Borneo, India and Vietnam.

Paraglenurus sp.
Five species found only in the Oriental Region.

Valignanus sp.
Two species found in India and Malysia.
---