U.S. artist Patrick Bremer created these oversized sculptures of an antlion larva and adult. Both sculptures measure about 3 feet (1 meter) in length. They are on display in the Nature Center at
Indiana Dunes State Park
.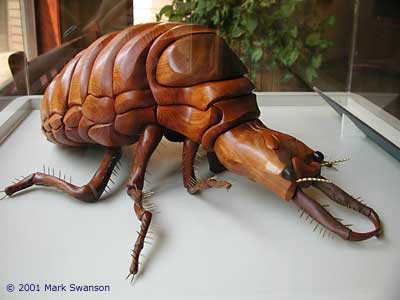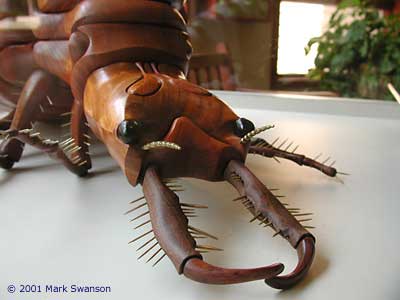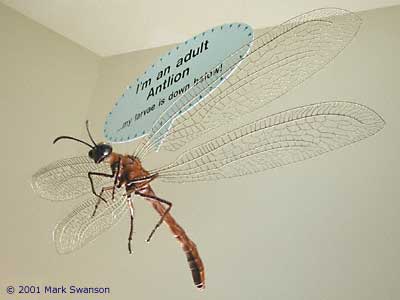 These photos of Patrick Bremer's sculptures are presented here with the artist's permission.
A 1990 newsletter of the Michigan Entomological Society featured an article that explained why the Park chose Bremer's sculptures:
Wendy Weis, a naturalist at Indiana Dunes State Park, a 2,182-acre sand dune preserve located on the shores of Lake Michigan, said the park asked Bremer to make the antlion sculptures because his pieces are anatomically accurate. Park officials saw the sculptures in the Smithsonian magazine. "The ant lion is a good species to be interpreted to large sculpture because ant lions live in the sand dunes, but are difficult to see with the naked eye," Weis said.

"People rarely, if ever, see them," she said. "Patrick takes a great deal of care in portraying an insect as it is. He doesn't fantasize or blow it out of proportion. We want people to understand nature as it is."
---